The Richmond Association Phi Beta Kappa Scholarship

Every spring, the Richmond Association grants scholarship awards to a graduating senior from a Richmond-area high school. Our criteria emphasize academic excellence, well-roundedness, thought-leadership, character, and the quality of a written essay on the value of a liberal arts education to the individual and society. Selection is always difficult because of the exceptional quality and number of seniors who submit applications.
2016 Richmond Association of Phi Beta Kappa Scholarship Award Winners:
KOVACH – Recipient of a $2000 Phi Beta Scholarship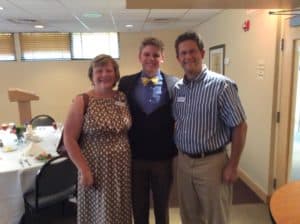 Daniel J. Kovach graduated from The Steward School in 2016 with a weighted GPA of 5.1. Aside from his high scholastic achievement, he became an outstanding actor in school productions, was a standout swimmer on the school's team, and was active in student government. In addition to winning the Jefferson Book Award from the University of Virginia and several science awards, Daniel showed considerable talent for languages. He won the school's Latin award, and studied and gained fluency in Italian and Spanish. In addition to an innate desire to learn languages in order to communicate internationally, he intends to use his intense interest in science in his goal to become a physician.
KRIVANEC – Recipient of a $1500 Phi Beta Scholarship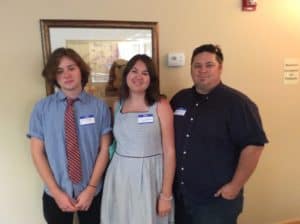 Thomas J. ("TJ") Krivanec graduated from Open High School in 2016 with a GPA between 3.5-4.0. His distinctive interest in the arts was evident in his study of all art forms. He became especially adept in the both pictoral art and music while excelling in all other high school subjects. While engaging in a challenging academic schedule, he also held several jobs during high school.
He was accepted early in the Art Foundation program at Virginia Commonwealth University, and will use his scholarship toward his studies there.
AMY ARIEL- Recipient of a $2000 Phi Beta Scholarship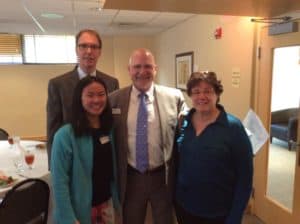 After only three years of high school, Amy Ariel was an August, 2016 graduate of Godwin High School. While in high school, she became heavily involved theater technology and lighting design involved with television and cinema. Not content with the technical aspects of drama, she also acted and was given the Outstanding Thespian award for her acting in productions at Godwin.
Amy was not content with production and acting, so she immersed herself in Mathematics and Science in which she received awards. Finally, while engaged in her scholastic and work in the theater, she also was selected to attend the High Tech Academy pre-engineering program. She plans to pursue engineering as well as theater technology and lighting design at Virginia Commonwealth University.
After her first semester, she wrote the executive committee thanking the Phi Beta Kappa Association again, adding that the scholarship enabled her to concentrate on learning the craft of theatrical lighting design, adding that she wished to "…continue representing Phi Beta Kappa as I expand to more challenges on the coming semesters."
Congratulations to these outstanding students!
The Richmond Association of Phi Beta Kappa Scholarships are funded with private donations from our membership. Thank you to all who have donated generously. For information about giving to the fund, contact us.
A special thank you to the members of the 2016 RA Scholarship Committee. For information about serving on the committee, contact us.